OUT NOW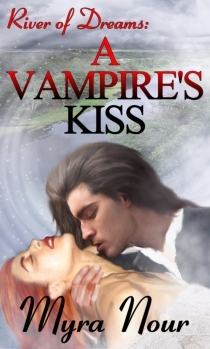 TO BUY CLICK ON COVER
River Of Dreams: A Vampires Kiss
By Myra Nour
New Concepts Publishing
ISBN: TBA
Genre: Paranormal Romance
Violet travels to the Amazon to ask the river goddess to make her fantasy come true, to encounter and have an erotic encounter with a handsome vampire, afterwards her dreams play out her erotic fantasies. The vivid dreams feature herself and her fantasy vampire. But are her dreams only dreams? Or something more?
Violet is shocked when a handsome stranger that looks exactly like the vampire in dreams shows up at her job and requests her services as a realtor. Is Adrian her dream man? Do vampires really exist?
Myra Nours River Of dreams: A Vampires Kiss is a delicious view into one womans fantasy, but not as well written and up to Ms. Nours usual standards. I give this book 3 ½ stars.
Kim

OUT NOW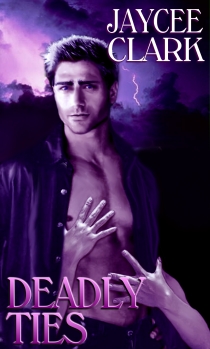 TO BUY CLICK ON COVER
Title: Deadly Ties
Author: Jaycee Clark
Published by: New Concepts Publishing
ISBN: 1-58608-389-9
Genre: Romantic Suspense
Taylor Reese isn't looking for a relationship after barely surviving the devastation of a cheating husband, but she can't deny the electricity that runs between her and the luscious Dr. Kinncaid.
Gavin Kinncaid is amazed at the attraction between him and the spitfire social worker. Knowing that his schedule as a doctor keeps him from having any kind of real relationship doesn't stop him from pursuing the beautiful Taylor Reese.
Taylor and her adopted son have a secret that is about to come back to haunt them. Ryan's biological mom has escaped from prison and is set on getting back the son she lost to the nosy social worker. Dr. Kinncaid is falling in love with Taylor and her son more and more every day, but will he be able to protect them from the real live threat that is on its way to their front door? Can they make their life work together or will they lose their lives in the process of fighting against the one woman who will not give up her flesh and blood?
Another wonderful book by Jaycee Clark. Hands down a FIVE star book. Her characters are so real you can almost reach out your hand and feel them. I was crying and laughing the whole way through. Loved it!!!
Paula Beaty
OUT NOW

TO BUY CLICK ON COVER
Title: Abiogenesis
Author: Kaitlyn O'Conner
Published by: New Concepts Publishing
ISBN: 1-58608-479-8
Genre: Futuristic Sci-Fi Romance
Dalia VH570 is in big trouble. She awakens to find herself about to be put to death by a guy in a lab coat. Being the warrior that she is she can't allow that to happen, but before she kills the man attempting to take her life, she must have answers. Only the ones he's giving aren't possible…are they?
Reuel Co469 doesn't need any more complications in his life, but when Dalia shows up and tries to threaten him into helping her escape, he finds that she's one complication that he is more than happy to "deal" with.
Pregnant? She couldn't possibly be pregnant. She hadn't done anything to get her pregnant, so the man who had just tried to kill her had to be wrong. He had the wrong woman that was it. Only the people chasing her down don't seem to want to hear that at this point in time. She must get off the planet, but how? Finding Reuel just happened to be a coincidence, right? But finding out that he's the father of her child and that she's a robot just like him is far too much for her to handle. Will she be able to find the answers to her questions in time, or will the company find them before they are able to give birth to their child?
This was an amazing Sci-Fi thriller. Kaitlyn O'Conner has written a great piece of fiction for readers who look for a good science fiction romance. The relationship progresses to such a wonderful crescendo. The ending was absolutely perfect. FOUR stars all the way!
Paula Beaty
OUT NOW

TO BUY CLICK ON COVER
Title: Immortal Ops
Author: Mandy M. Roth
Published by: New Concepts Publishing
ISBN: 1-5608-485-2
Genre: Paranormal Romance
She's fed up with her girlfriends setting her up on endless blind dates. So it should come as to no surprise to Peren Matthews when her night out with the girls to celebrate her birthday reveals itself to be yet another set up. After the disappearance of her fiancée a few months back she hasn't been able to allow herself to even really become interested in another guy even after all the blind dates she has been set up on. But one touch from the gorgeous man before her and she's immediately torn between the urge to run and the urge to mate most vigorously with him.
Lukian Vlakhusha can't believe how easy it is to get up close and personal with the target he and his team were hired to kill. But he wasn't prepared for the strong attraction that calls to him even from a simple photograph. Saving her from a pack of werewolves suddenly changes his plans where Peren is concerned, but will she ever accept him and the secret of his identity.
Peren has always known she was different from other people, but the tragedy that took her step-mother from her when she was young has been permanently engraved upon her mind. So when she goes for a night out on the town with her girlfriends only to find out that they have yet again arranged her into a blind date, she is furious and leaves the club. The gorgeous creature that was to be her date follows her, but one touch of his hand tells her that she needs to flee from him and quick. Being chased down by a pack of howling werewolves, which in turn brings about her fears of that night long ago, she finds that her hero and savior is the one man she originally fled from. Can her heart survive the truth of what and who he is, or will his secret destroy her in the process?
Immortal ops gave a new twist to the werewolf scene. The men were irresistible and the emotions were powerfully written. I give this book FOUR stars and look forward to reading many more Mandy Roth books. Exciting!
Paula Beaty
OUT NOW
TO BUY CLICK ON COVER
Title: Endless Night
Author: Andrea Dionne
Published by: New Concepts Publishing
ISBN: NONE
Genre: Sci-Fi
Captain Breanna Delaney lives with the memory of what happened that fateful day twenty-five years ago. The day she lost her mother. Her dad has continually told her stories of alien research that had taken place upon the ship that disappeared leaving her and her father as the only survivors. Now that the ship has reappeared she is determined to find out what happened so long ago.
Caleb Sylvaine is determined to melt the "ice queen" before this mission is over. Fighting the enemy has never been a problem, but fighting his attraction to the one woman he shouldn't be attracted to…his superior…is far too hard to resist. He knows she's hiding something from him and the rest of the crew, but will she trust him with her secrets before its too late?
The Mayflower disappeared twenty-five years ago along with all the passengers it carried, leaving behind only two survivors to make it off in time. Now it's back and the Company has sent a crew of soldiers out on a rescue mission to see if they can't find out what happened. Breanna Delaney is dead set on finding out what happened to her mother. She wants answers and until she gets them no one is safe from her wrath. The sexy Caleb Sylvaine is a wrench that has been meticulously thrown into her plan and her growing attraction to him is slowing her down. He seems to be hell bent on melting the wall she has built around herself for so long. When they find they are all stranded on the Mayflower and somehow the ship is flying itself, will they be able to find out what happened all those years ago before they disappear too?
Andrea Dionne has written a thoroughly enjoyable alien tale. The heat between these two is scorching. The drive to find out what happened on that fateful day is strong and Breanna is definitely determined to find out no matter what the costs. Caleb was a wonderful hero who protected Breanna, but also allowed her to be her own hero as well. Got to love a man who's manhood is able to comprehend that a woman can take care of herself at times. A most exciting read. What a ride!!
Paula Beaty
OUT NOW

TO BUY CLICK ON COVER
The Maiden and The Werewolf
By Taylor Manning
Published by New Concepts Publishing
ISBN: TBA
Genre:Fantasy Paranormal
Kira was rushing home to care for her grandmother, Amma who is on the verge of dying when she was almost attacked by three wolves. One wolf, a silver wolf rescued her. During the night, three a lone traveler came to their hut, needing rest and food. Then three more travelers appeared at her door. Valgard, proclaimed Kira to be his mate if only she knew about the secrets her grandmother kept hidden from her until the time is right, he will claim her as his mate, after the war with darkness and light is over.
A nice little love story of finding one's true self. 3 stars.
TA
OUT NOW

TO BUY CLICK ON COVER
Deadly Shadows
By Jaycee Clark
New Concepts Publishing
ISBN: 1-58608-388-0
Genre: Romantic Suspense
In trying to save her friend, Maddy, crosses paths with an insane serial killer and becomes his next target. Aiden Kinncaid arrives at the empty house he rented and makes himself at home. Tired from the long trip to Colorado all Aiden wants is to rest before checking out the new hotel his family has acquired and is rudely awakened by the landlord and police.
Since their first meeting Aiden and Jesslyn strike sparks and with each day they grow closer and closer together. But when Jesslyn is attacked can Aiden overcome his guilt at not protecting Jesslyn? And can he keep the killer from finishing the job?
Jaycee Clark writes a superb story of romantic suspense in Deadly Shadows. The characters are believable and they draw the reader into their lives. It hooked me from the beginning and kept me at the edge of my seat. My eyes stayed glued to the computer screen from beginning to end.
Deadly Shadows is a magnificent story of love and danger. A must read for anyone who loves romantic suspense. I give Deadly Shadows 5 stars.
Sally
OUT NOW

TO BUY CLICK ON COVER
Quirin Stone
By Marie Morin
New Concepts Publishing
ISBN:1-58608-408-1
Genre: Paranormal Romance
Cassie and Thor meet in an unconventional way and love quickly follows, but with their relationship moving forward so quickly Cassie wonders if Thor isnt hiding something and worse of all are the strange dreams of the past that show Cassie a different reality.
Ms Morin wrote a lovely and mysterious tale of love and uses dreams along the story to point readers to Thors true identity. The reader has to pay attention in reading The Quirin Stone because its easy to become confused when the dreams tell of the past.
A magnificent story and overall great read. I truly enjoyed reading this story and following Cassie and Thors relationship till the end. I give The Quirin stone 4 stars.
OUT NOW

TO BUY CLICK ON COVER
Title: Isnt It Romantic?
Author: Ellen Fisher
Published By: New Concepts Publishing
ISBN: 1-58608-428-3
Genre: Romance
Kipling Stanton is trying to live a normal life. After years of playing the main role on a science fiction television series, he has dropped out of the public eye and just wants a little rest and relaxation without all the hassles of the paparazzi. Then he sees the best looking backside he has ever seen in his life next door. When he be able to keep his identity a secret or will his cover be blown?
Cody Lang has just received news from her father that he is ill. Not wanting him to worry about her she makes up a wild tale about her meeting a wonderful man and eloping. Shes unprepared for her father to jump on a plane to come see her and her new husband. When she meets her new neighbor and finds out he is unattached a devious plan forms in her mind. But will she be able to convince her new neighbor shes not crazy just desperate?
For such a beautiful creature, his new neighbor sure has turned out to be a world-class loon. She immediately proposes that he pretend to be her husband for the week or so that her father is in town. Kipling finds himself physically attracted to his new neighbor who appears to not have a clue as to who he really is, but he just cant relax long enough to trust that she isnt setting him up to make a name for herself with the press. Yet, the more time he spends with Cody the more he finds himself falling for herhard. Shes everything he ever dreamed of and yet he is starting their relationship based on a lie. He wants to tell her the truth, but finds that there is never a right time to disclose his deception. When her father arrives, he isnt ill at all. Kipling realizes that her father is very hard on Cody, always putting down her life and career choices, making her feel insignificant. When he goes out to dinner with them, in public, he starts a verbal argument with her father that leads to the people and press actually noticing who he is. Will Cody accept that he lied to her? Will she be able to live with him being a sought after movie star? Or will their love never be realized?
This was a beautifully written story of love at first sight. Kipling tried so hard to keep his identity a secret, but learns that love cannot be built on a lie. This story was very moving and sweet. If you are looking for a sweet, romantic love story, this is it!
Paula Beaty
OUT NOW

TO BUY CLICK ON COVER
Title: Barbarian
Author: Amanda Steiger
Published by: New Concepts Publishing
ISBN: 1-58608-424-0
Genre: Sci-Fi
In training to one day become a Clearstone Sri 'dith, Raina feels as if she has never really belonged in the Hold. Her telepathic skills grow everyday and she longs to be a powerful healer and yet something still doesn't fit. When she stumbles across a known enemy, A Scandrian, she fears for her safety. But he's hurt and she is sworn to help all creatures, even enemies that are in need of her healing powers. Will helping him prove to be a fatal mistake or the beginnings of an adventure that will far surpass her wildest dreams?
Kadir Talon is amazed to find out that he has crash-landed on the planet that his planet has been at war with for centuries. He is even more amazed to find a beautiful young woman was able to heal his mortal wound. But has she healed him only to take him hostage and use him as a bargaining chip against his planet or his she truly what she appears to be, young and innocent?
She always seemed to be receiving more chores, so this latest one was no surprise. But what she stumbled upon was! A Scandrian pod had crash-landed and the habitant of the pod was severely wounded and she couldn't just turn her back on him and refuse to heal his wound. Taking him back to the Hold with her proved to be a wrong move, because the head Clearstone knew exactly who he was, the King of the Scandrians. She locked him up and decided to use him as a pawn against his planet. Raina couldn't let that happen and decides to help Talon flee, therefore, signing her fat of never being able to return to the Hold to finish her telepathic training. Returning with Talon to his planet brings her more trouble. Her feelings for Talon begin to grow and she finds herself torn because there seems to be no end in sight in the war between their home planets. Can Talon find a solution to end the war before both of their planets are gone forever? Will their love last through all the stresses of war and their cultural differences?
I fell in love with this story right away. The love shared between Raina and Talon is remarkable. I love the psychic connections and the reading of each other's thoughts and feelings. Sometimes wish that was a power we all possessed. Definitely FOUR stars hands down. A very good Sci-Fi read.
Paula Beaty
OUT NOW
TO BUY CLICK ON COVER
Title: Highland Heat
Author: Fiona Neal
Published by: New Concepts Publishing
ISBN: 1-58608-482-8
Genre: Contemporary Romance
Kerry Cameron has been through hell and back again all within a short period of time. First, she loses her job then her grandfather has a stroke that leaves him speechless. Now to top it all off, she's found another job only to find out she works for a lecherous pain in the rear. She is told to go do a story on an author who has refused to do any interviews with anyone. But when she gets to Scotland, the man she seeks isn't an old recluse, but a gorgeous young man who makes her skin heat to dangerous temperatures.
Ronan Fraser is glad that he sold a book, but now regrets the fact that he has. Everyone wants an interview with him and he is dead set against anyone finding out who he really is. Not just for the sake of his privacy, but so no one will laugh at him. He has a stuttering problem that worsens when he's nervous or upset and couldn't bear the thought of some reporter laughing at him, let alone the whole world. But the delectable creature who he stumbles upon sneaking through his garden is someone he could find himself giving anything too. It's a good thing she isn't a reporter. Or so he thinks…
Kerry hates the idea of leaving her grandfather alone for a few weeks while she traipses off to Scotland to hunt down an old recluse who refuses to do interviews, even after selling a remarkable book. But she must take the assignment or find herself left with no job and no way of paying for her grandfathers mounting medical bills. But after meeting the gorgeous Ronan Fraser, and finding herself falling deeper and deeper in love with him, can she go through with the deception or will the Highland heat get to be too much for her?
FIVE stars all the way. This book was tantalizing as much as it was moving. The insecurity in this big, strong hero nearly broke my heart in two. Ronan and Kerry are definitely characters that will stick with me for a long time to come.
Paula Beaty
OUT NOW

TO BUY CLICK ON COVER
Title: Aislyn
Author: Shelley Munro
Published by: New Concepts Publishing
ISBN: 1-58608-444-5
Genre: Fantasy Romance
Seamus Gallagher is pulled between what he wants and what his duties as Guardian to his people dictate. He wants Aislyn with every molecule of his being, but his responsibilities to the colony dictates that he must marry a rich fairy from another colony to bring wealth to his colony. Sometimes being a fairy makes him long to remain in the human world and shirk his duties so he can just be happy.
Aislyn hates the colony and secretly longs to go to the human world. She wants Seamus but since she can't have him because he looks at her as a sister, she decides that she wants to join the Fairy Force. But females aren't allowed!
After all these years Aislyn is still getting herself into trouble. Seamus tries to help her since he promised his friend that he would keep an eye on his baby sister. But brotherly feelings is not what Seamus feels for Aislyn which causes problems since he is the Guardian who must marry someone of wealth from another colony. He keeps the secrets of the colony by working as a police officer in the human world. When Aislyn finally breaks one too many rules and is cast out, he steps in and helps her. But will her flare for causing trouble stop once she reaches the human world or will she bring a whole new type of trouble and consequences down upon them all?
Shelley Munro has written a beautiful story of fairy's that live and work among humans without their identities being found out. Aislyn was your typical curious, liberated woman who was dead set on the fact that women were capable of doing anything men can do. Seamus was doomed from his first kiss and it was a wonderful ride. I give this book FOUR stars.
Paula Beaty