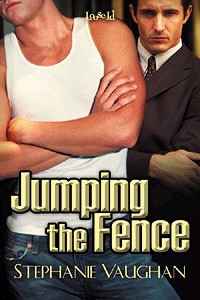 Publisher's Blurb (Review below)
What do you do when the last thing you need is the only thing you want?

As much as they drove him crazy, Kevin had always done fine with women. But lately they were pushing him over the edge. They wanted it. They didn't want it. They didn't do it on the first date. Didn't give head. Could they just kiss? Not with the lights on. It made his head want to implode just thinking about it. Whatever they possessed that passed for a thought process was totally alien to him.

Men, on the other hand, were simple: sex, sports, cars and occasionally food took care of it, pretty much. So when he finds himself checking out the new guy at work, Durrance, and Durrance is looking back, he wonders what it would be like, just this once, to have it the easy way. But he's not gay or anything. Heck, no.

It's just he can't stop thinking about jumping the fence.