OUT NOW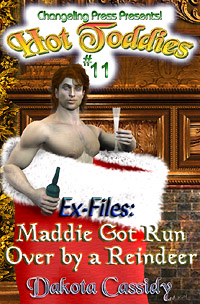 TO BUY CLICK ON COVER
Look below for publisher's description
and site review
Publisher's Description
Cole wants to marry Maddie. Maddie's afraid of commitment after an ugly divorce. It's Christmas Eve and Cole pops the big question. So what does Maddie do? Yeah, you guessed it, she freaks out. Predictable right?

And then what does she do? Maddie gets run over by a reindeer! Not so predictable, right? Well, neither is what happens when she meets a couple of elves, Darwin, and the six-foot-tall Aloysius. Can they help her see that Cole is a forever kinda guy? Check out the Ex-Files bunch and find out!
Review
Hot Toddy # 11
The Ex-files: Maddie Got Run Over By A Reindeer
By Dakota Cassidy
Published by Changeling Press
ISBN: 1-59596-107-0
Genre: Contemporary Erotic fantasy
Dakota Cassidy writes a hilarious story, I never laughed so much, completely funny and thoroughly enjoyable.
5 hearts.
Sally